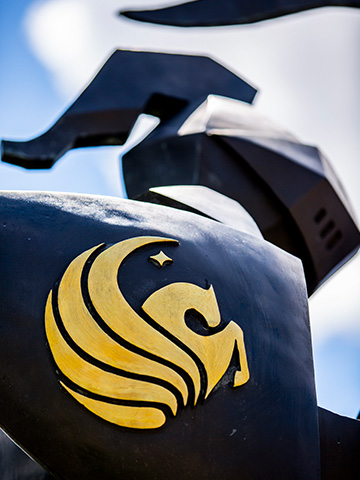 Official transcripts must be ordered online through the MyUCF portal.
UCF does not offer unofficial transcripts. All transcripts orders are non-refundable.
Ordering Process
To order your official transcripts online, current and previous students will order through Parchment.
If you do not remember your NID, you may self-register for transcript ordering through our vendor, Parchment. Click here to visit Parchment.
Note: Self-registration may take longer to process your transcript request as we may need to perform additional verification steps.
If you remember your NID, you may order through myUCF.
To request a transcript, go to:
myUCF > Student Self Service > Student Center > Under the Academics subheader in the center of the page, click on the "other academic…" drop-down menu and select "Transcript: Request Official."
(You may have to set up security questions when accessing your account)
Please turn off your pop-up blocker.
A $15.00 charge is required for each transcript ordered to cover the expense of the transcript and the servicer's service charge, except for transcripts that will be picked up at the UCF main campus. The charge for a transcript to be picked up is $10. Payment must be submitted at the time of request. Requests cannot be submitted without payment.
If you are requesting a transcript to be picked up, a photo ID must be presented at the time of pick-up. Transcripts can be picked up at our main office. Transcripts requested for pick up that are not claimed within 30 days of printing will be discarded and must be reordered with full payment.
Our vendor accepts Visa, MasterCard, and Discover.
Delivery Options
Printed and U.S. Postal Service
Paper transcripts ordered by noon EST will be printed and sent out the same day. There is also an option for USPS International mailing for an additional $5 charge.
FedEx
When ordering transcripts online, you have the option to have FedEx deliver your transcript. The charge for a FedEx delivery is $40 ($15 for the transcript + $25 for FedEx). This is a flat rate for delivery anywhere in the U.S. For FedEx International delivery, the charge is $55 ($15 for the transcript + $40 for FedEx International).
FedEx will not deliver to Post Office Boxes or any other Box address.
Please watch for an email after placing your order as it will contain your FedEx tracking number.
Requests with Attachments
Transcripts that require a form be enclosed (e.g., LSAC, AMCAS, or PHARMCAS) must be requested with a PDF attachment copy of the necessary form included in the order. PDF is the only format myUCF will accept as attachments. You cannot add a matching form or attachment if you have already placed an order online. Please do not use Google Chrome when placing a request with attachments.
Notary or Apostille Stamp
If you wish to have your transcript notarized or processed for an Apostille stamp, please place your order with an attachment. The attachment should explain what you are requesting. These requests will take longer due to the additional processing required but will be completed as soon as possible.
Transcripts to Be Picked Up
Transcripts can be requested to be picked up by the requestor from the Registrar's Office. The delivery time for this option is next business day.
Waiver of Transcript Fee for Active Duty Military, Honorably Discharged Veterans, Spouse and Dependents
In accordance with Florida House Bill 171, UCF students or alumni who are active duty military, honorably discharged veterans of the United States Armed Forces, or spouse or dependents are eligible for a transcript fee waiver. The waiver will cover a printed, official transcript mailed via USPS. PDF transcripts and express mail are NOT covered by the waiver. To use express service, the student must provide a FedEx label to the Registrar's Office in advance of sending the transcript(s).
You must be confirmed as active duty military, honorably discharged veteran, spouse or dependent. To request your official transcripts, please contact Michelle.Parker@ucf.edu.
PDF Transcripts
PDF Transcript Delivery is an electronically delivered official UCF transcript sent over a secure network to the email address of the recipient you designate. PDF transcripts issued by UCF are considered official documents and are certified by a digital signature and special security characteristics. In addition, each page of the transcript contains the signature of the Registrar and the university seal.
Process
Before requesting PDF transcript delivery, you should verify that the recipient will accept an electronic transcript. Additionally, it is important that you verify the appropriate email address for transmission of the transcript. The recipient will receive instructions on how to authenticate the official PDF transcript. This will include steps the recipient must take to acquire an access code so that the transcript may be viewed.
Each transcript issued in PDF format has warnings that the document is intended for the recipient only. In addition, the email notification to the recipient states the same. UCF will not certify the authenticity of any PDF transcript that has been replicated or forwarded to any person or organization other than the intended recipient.
When requesting a transcript to be sent to Seminole State College or Valencia College, the system will default the delivery method to PDF format. It will be sent via EDI rather than as a PDF. If the requestor desires a paper transcript be sent, the option is available to do so. If the transcript is to be sent to one of these two locations, but to a recipient other than the Admissions and Records office, please look for a link below the search bar to send to another individual (not using search for destination).
Notification
If you are sending the transcript to a third party, a courtesy email notification will be sent to you when the recipient has received their download instructions. Additionally, a courtesy email notification will be sent to you when the recipient has downloaded the PDF.
Expiration
The recipient has 30 days to download your PDF transcript before it expires. Recipients who have not downloaded your PDF transcript receive a reminder email a few days prior to expiration. If the recipient does not receive the email required to download the PDF transcript, please have the recipient check his or her junk mail for the email. Please double check that you have spelled the email address correctly.
Payments
Payments must be made online during the ordering process, using a credit or debit card.