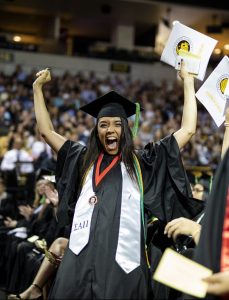 UCF 2020 graduates are welcomed back to campus for an opportunity to walk across the stage and take official graduation photos. We are excited to provide you and your loved ones a chance to celebrate your hard-earned achievement by hearing your name announced as you cross the stage.
Please read all the information provided on this page to participate in this celebration.
DATES AND TIMES
Saturday, November 14 – Thursday, November 19 is reserved for Fall 2020 graduates.
Saturday, December 12 – Thursday, December 17 is reserved for Spring and Summer 2020 graduates.
REGISTRATION IS REQUIRED
Monday
9 a.m.–12 p.m.
1–5 p.m.
Tuesday
9 a.m.–12 p.m.
1-6 p.m.
Wednesday
9 a.m.–12 p.m.
1–5 p.m.
Thursday
10 a.m.–1 p.m.
2–7 p.m.
LOCATION
The UCF Grad Walk will be held in the Pegasus Ballroom, inside the Student Union. There will be only one entrance into this event, located to the left of the main Student Union entrance, across from Chick-Fil-A patio. All graduates and guests must check in at the registration table, and your entire party must be together before you may enter the event. We have complimentary parking for you and your guests in Parking Garage I. To view a map of the location of Parking Garage I, please click here.
REGISTRATION
Every graduate must register for a specific time slot to participate in this event (registration links are at the bottom of this page). You must register at least two days in advance for your desired time slot. Each time slot runs for 15 minutes, and there are only three time slots per hour to allow staff time to clean the venue every hour. You may arrive at any point during your 15-minute time slot, and you must check in before the end of your time slot. If you arrive late, you may be asked to return on a later date. You will be given your Reader Card when you check in and must fill it out before commencing to the stage inside the Student Union.
GUESTS
Every graduate may bring up to 4 guests with them inside the event venue. Once a graduate and their guests have checked in at the registration table, they must remain together as a pod throughout the event. A person of any age, including infants, is considered a guest.
IMPORTANT INFORMATION
Facial coverings are required in all indoor and outdoor spaces on campus.
All UCF visitors and students are required to conduct symptom monitoring through the COVID Self-Checker before arriving on campus. You may access this through the UCF phone app or by clicking this link.
Graduates may only register for one time slot. If a graduate signs up for multiple time slots, their registration for all time slots will be removed. Only the graduate may sign up for a time slot. If you miss your time slot, please email universityevents@ucf.edu immediately or speak with the person at the registration table. Official regalia is not required. You may order official UCF embroidered regalia through the Herff Jones website, purchase any black graduation gown, or opt to wear professional attire with your cap, tassel, honor cords and/or stole. The university reserves the right to request that graduates change inappropriate attire before participating in this event. Graduation gowns of any color other than black will not be allowed. The UCF Bookstore will have a table at the event for last-minute regalia needs such as caps, tassels, stoles and cords. No graduation gowns will be available for purchase on site.
Graduates and guests must follow all staff instructions during the event.
If you have any A.D.A. needs, please contact universityevents@ucf.edu
Floral arrangements and T-shirts featuring the graduates' names, along with other commemorative gifts, will be available for purchase. To pre-order and reserve your graduate's favorite flowers and T-shirt size, please click here.
REGISTRATION LINKS
Fall graduates who are unable to attend the Grad Walk in November, but want to participate in December, need to email universityevents@ucf.edu.