Enrollment verification is used to officially verify a student's enrollment status, credit hours, anticipated graduation date, and proof of attendance. This is usually needed for Good Student Discounts, insurance companies, banks, prospective employers, and other interested parties.
Procedure
Verification of current term enrollment is official approximately seven (7) business days following the drop/swap/add period for each term. Please refer to the Academic Calendar for details.
Current Students
Current students or alumni enrolled within the past two years may obtain an Enrollment Verification (proof of attendance) and/or the Good Student Discount Certificate through myUCF for no charge.
RELATED LINKS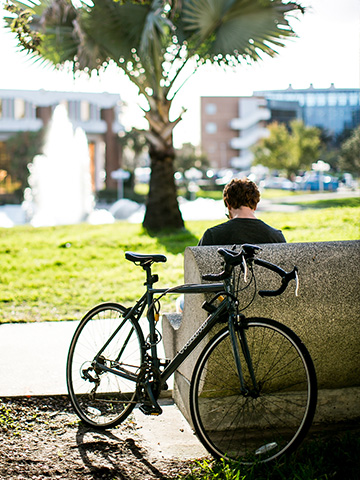 To obtain Enrollment Verification through myUCF, go to your Student Self Service and under Academics – Undergraduate and Graduate Careers heading, click on "My Academics" and then "Request Enrollment Verification". By going to National Student Clearinghouse through myUCF, you are automatically connected to their Student Self-Site, which will give you options to print the appropriate form(s) with your enrollment status.
Former Students & Third Party Requests
Students or alumni not enrolled within the past two years (as well as third parties including individuals, businesses, loan companies or lenders) may request enrollment verification directly from National Student Clearinghouse online or call them directly.
Terms and Credit Hours
The UCF academic calendar consists of three semesters a year: Fall, Spring, and Summer.
Credit Hour: A credit hour is an amount of work represented in intended learning outcomes and verified by evidence of student achievement that is an institutionally established equivalency that reasonably approximates not less than:
One hour of classroom or direct faculty instruction and a minimum of two hours of out of class student work each week for approximately fifteen weeks for one semester or the equivalent amount of work over a different amount of time;OR
At least an equivalent amount of work as required in paragraph (1) of this definition for academic activities as established by the institution including laboratory work, internships, practica, studio work, and other academic work leading to the award of credit hours.
Undergraduate Enrollment Status
| Status | Fall, Spring, or Summer Credit Hours |
| --- | --- |
| Full | 12 or more |
| Three-Quarter Time | 9-11 |
| Half Time | 6,7,8 |
| Less Than Half Time (LTHT) | Less Than 6 |
Graduate and Post-Baccalaureate
Status
Fall or Spring Credit Hours
Summer Credit Hours
Degree Seeking*
Full
9 or more
6
Half Time
4.5 – 8
3
Less Than Half Time (LTHT)
Less Than 4.5
Less Than 3
Non-Degree Seeking
Full
12 or more
12
Half Time
6-11
6
Less Than Half Time (LTHT)
Less Than 6
Less Than 6
*Note: There are two exceptions to enrollment requirements for full-time, degree-seeking graduate students. For master's students pursuing a thesis option, full-time enrollment is defined as three (3) hours per semester [including summers, of only thesis hours (XXX 6971)], after completion of all coursework and until successful completion and defense of thesis. Students enrolled in thesis hours simultaneously with coursework hours must be enrolled in a combined nine (9) credit hours to be considered full time for the fall and spring semesters, or six (6) credit hours to be enrolled full time in the summer semester. For doctoral students who have passed the candidacy exam and are registered for doctoral dissertation (XXX 7980) hours only, full-time is three (3) hours per semester, including summers, until successful completion and defense of dissertation.